Welcome,
Welcome back,
and Welcome Home to
Ballard Vale United church
We are a Reconciling, Open & Affirming Congregation
(that means really welcoming and LGBTQIA+ affirming)
of the United Methodist Church and the United Church of Christ.


No matter who you are, or where you are on life's journey, 
you are welcome here. 
Please join us for worship every Sunday morning at 10:30AM.



Our worship is available live in our sanctuary and on our Facebook Page.
Please see our COVID-19 page for more details.
Last Week's Worship Service
The main part of the service begins after announcement slides scroll for several minutes
Every donation enables us to support our church's bold voice
for LGBTQ-affirming, justice-seeking Christianity,
and many local, national and international community efforts and charities as well.
Please prayerfully consider a donation to aid in our endeavors.
Summer 2021 Worship Series
Tending the New Creation
What does it mean to be a "new creation?" We all yearn for renewal—as individuals and as a congregation—but are we willing to pursue it? How is our own personal renewal connected to "new creation" in others, in our communities and in the world itself? In coming out of our pandemic cocoons, how will we resist the urge to run back to all of our old ways of living? "Tending" means to lean in the direction of something: to "attend" to something is to nurture it, grow it, build it, pay "attention!" So this is what we will do on the eight-week journey toward the new creation Christ in-tends for us!
Click on the photo below to learn more!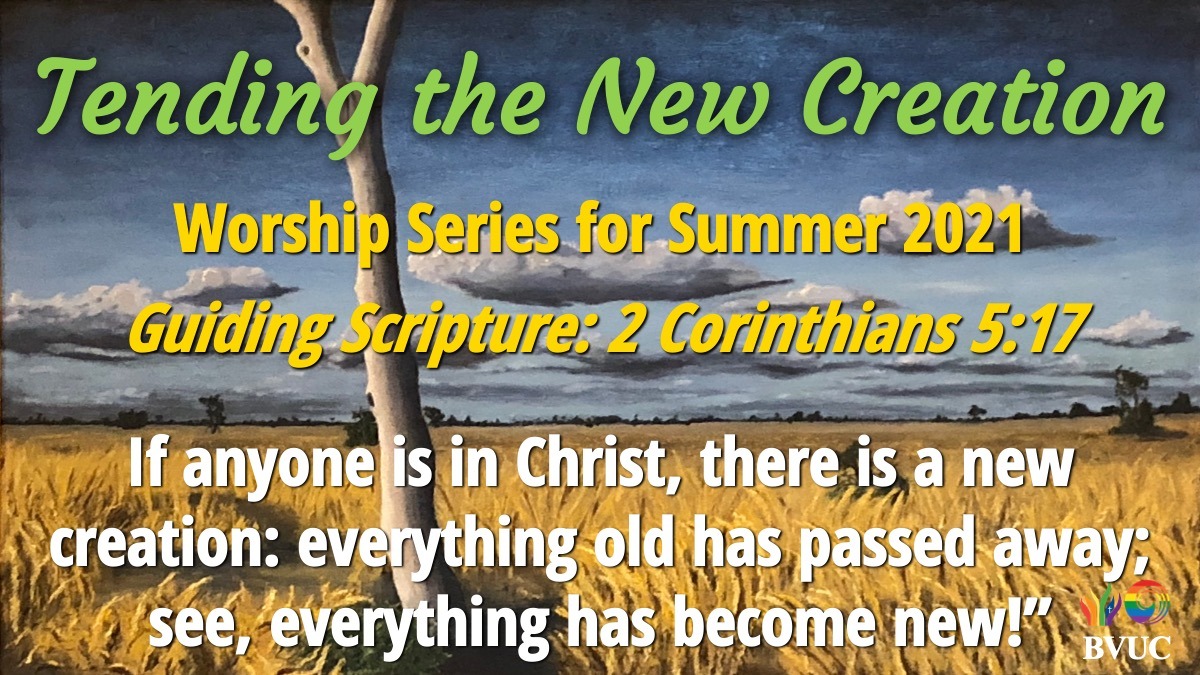 During the month of June, we will be having a clothing collection for the United Methodist Economic Ministry (UMEM) in Salem Township, Maine. We will accept bags of gently worn or new summer and spring clothing, including sweaters and sweatshirts (it is in Maine, after all!). New socks and underwear are especially welcome. Children's clothes should be bagged separately and bags tagged or labeled. At worship, the welcomers will have tags for you to take as needed. Bags may be brought to church all month long, and we will dedicate all of our donations during worship on the last Sunday. So scout out your closets and invite your friends to contribute. As always, your generous response is overwhelming and we look forward to a successful drive.
Vacation Bible School and Summer of Service
Join our friends at South Church in Andover for Vacation Bible School (VBS) and Summer of Service (SOS).
The VBS program runs from June 21-25 and follows a custom curriculum designed by South Church Minister for Children and Families, Jenn Murray. There are classes for different age groups from age 2 through entering grade 6. Older youth through grade 12 can register as counselors and assistant leaders.
The Summer of Service program is open to middle and high school youth with three different weeks open: July 5-9, 12-16, and 19-23. Youth in grades 10-12 are invited to register as counselors.
Learn more at southchurch.com/summer
Here are the results from our May 30 cereal drive for Neighbors in Need: 170 boxes of cereal, 16 boxes of shelf-stable milk, $170 in Market Basket gift cards, and $125 in cash donations!
Thank you to all who supported this effort! This is in addition to over $900 raised for Neighbors in Need through our Easter offering. Together we are feeding the need in our community!

Calendar
Please see below for church & church-related events or click this link to open in your browser.